Description
Design features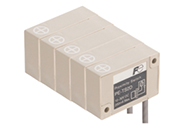 Unusual "Magnetic Shield Method"permits to mount these units side by side, touching each other.
(Shielded type PE-TS2)
Equipped with 2 mounting holes both side and rear
Capable of appropriate use depending on an installation site
Only 12mm in thickness because of the use of IC.
Wide operating voltage range
Operating range of supply voltage is from 80 to 250V AC or from 10 to 30VDC.
LED indicators are provided for all types thus facilitating operation checks.
Provided with built-in reverse polarity and surge voltage protection circuits.
Water and oil-tight
Degree of protection meets the requirements of IEC IP67 thus permitting operations in unfavorable environment.