Description
Multifunctional digital relay combines the functions such as protection, operation, measurement, and monitoring for high voltage power distribution and switching facilities, into one compact unit.The F-MPC30 series is a multiple function protectors and controllers in the power monitoring equipment, which integrates protective, measurement, and transfer functions for powerfeeder facilities. Versatile functions such as preventive maintenance and history data and abnormal value recording can be achieved with excellent economy and reliability. Theseworks have been very complicated as you must have used individual power monitoring devices in combination.Although the F-MPC60B series is very compact, it integrates multiple functions in one body, such as protection, measurement, operation, and monitoring of high-voltage power distribution and switching facilities. It can also transmit the data obtained with these functions to upper level controllers.
F-MPC30 series features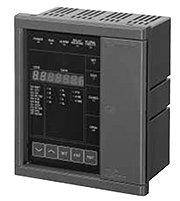 Economical system configuration
Includes measurement and protective functions limited to the current ranges most frequently used, thus allowing the construction of economical systems.
Improved operating reliability
Includes an automatic monitor function, an automatic diagnostic function supported by continuous monitoring and automatic inspection, and a fail-safe function, thus ensuring high operating reliability while minimizing daily and regular inspection tasks.
Easily designed coordination protection
Provided with 51DT1 and 51DT2 definite time trip characteristics that simplify the designing of coordination protection between overcurrent relays.
RS-485 communications interface
Two protocol types are available:
MPC-Net protocol and MODBUS protocol.
F-MPC60B series features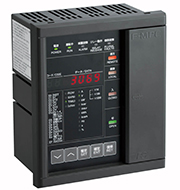 Flexibility
In accordence with changes in circuit conditions such as CT ratio, the setting of the F-MPC60B can be easily changed.
Improved maintainability
Preventive maintenance and fault analysis can be easily made with the functions that display operation history and fault data.
High reliability
To prevent operation errors such as circuit disconnection,
the FMPC60B series has dual CPUs that check with each other for confirmation and dual output circuits from which output signals are always checked.
RS-485 communication interface
Two protocol types are available: MPC-Net protocol and MODBUS protocol.