Card relay:RB series
Compact card relay for print board with low height and narrow width
The RB 104 and 105 relays are designed for printed circuit board use. These relays are extremely thin (5mm) and so, can be densely mounted on PC boards. As a result, PC board size and cost can be greatly reduced. Employing of bifurcated contacts ensure high contact reliability, allowing the RB104, 105 relays to be used in low-level circuits. Coil voltages are available in ranges from 4.5V to 24V DC.
Reviews (0)
Features
Types and Ratings
Design features
Thin, miniature size and light weight. The mounting space on the PC board can be reduced.
UL, CSA and TÜV approved.
Low power consumption. They can be operated by means of non-polarity magnet.
SIL terminal arrangement. SIL (Single-side In-Line lead) package allows the relays to be mounted easily on PC board.
Immersion cleanable.
Types and ratings

Specifications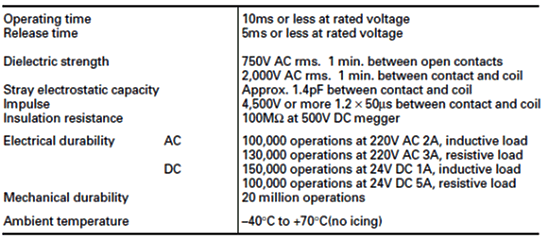 Related Products
Limit switches:AL-S,K244 series

AL-S series
AL-S series limit switches feature a forced contact opening mechanism. Under abnormal conditions, the mechanism forces the contacts open to prevent pitting and fusing. Gold-plated silver contacts with scrubbing action have high reliability.

K244 series
The K244 series is provided with four different kinds of contact operating actions: standard normal stroke, snap action, make-before-break, and extended stroke.
WK244 of the K244 series has bifurcated contacts, while HK244 features the scrubbing action mechanism. These limit switches can be used in the low-level circuits of 3V, 5mA.

AL-S series
The AL-S series limit switches feature a forced contact opening mechanism. This mechanism prevents contact welding and subsequent malfunctioning. These series therefore result in extremely dependable system controls.

K244 series
FUJI K244 type limit switches have an excellent performance.
K244 limit switches employ a highly dependable and long lasting double break silver alloy contact system. These can be expected to perform more than 10 million mechanical operations and the rate of 3,000 operations per hour.
The large variety of operating modes such as standard stroke, snap-action mode, make-before-break mode, extended stroke mode, and etc. allow you to select a suitable limit switch that fully meets your needs.
K244 limit switches are widely used for industrial apparatus such as machine tools, printing machines, conveyors, automatic machines and door interlocking and similar applications. The aluminum die-cast housing can also be supplied in an oil and water proof version.